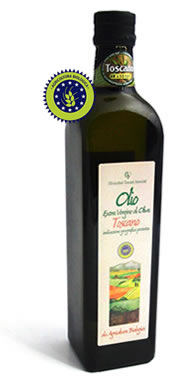 Toscano I.G.P. BIO
Organic extra-virgin olive oil
Toscano I.G.P.
Fragrance
fruity, of a medium-high intensity and hints of fresh grass and artichoke.
Flavour
the sensations evident are bitter and hot in equal measure with a perfect level of density.
Colour
yellow with green accentuations.
Overall
a harmonious high quality olive oil with hints of grass.
Method of production:
This olive oil is made from a variety of local olives produced in businesses that adhere to strict organic regulations. The olives are a mix of local varieties (Frantoio, Leccino and Moraiolo). The olives are picked in November.The oil is sold in the shop of the cooperative, restaurants, delicatessens and at the GDO.
In the local market the oil is sold in 0.25l, 0.5l and 0.75l bottles